Map Reference: 79 View Map
Dumfries & Galloway Family History Society Survey Reference: 97
---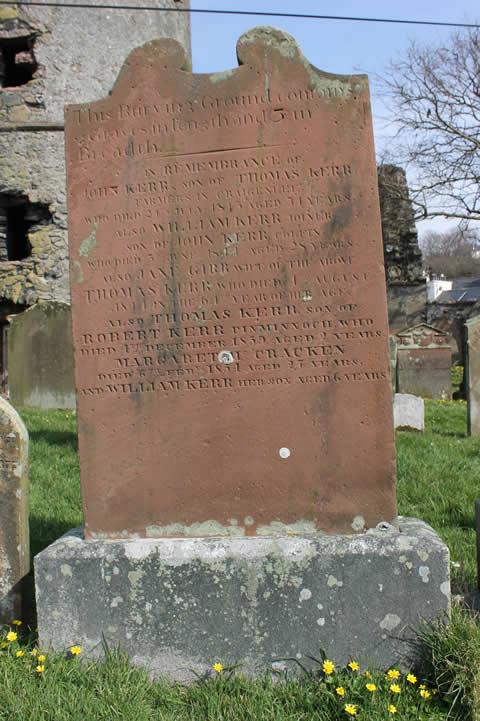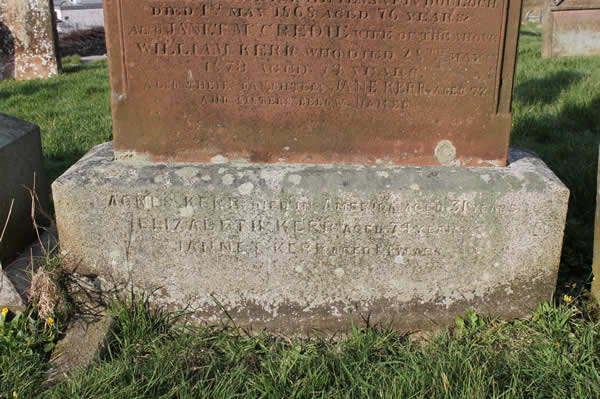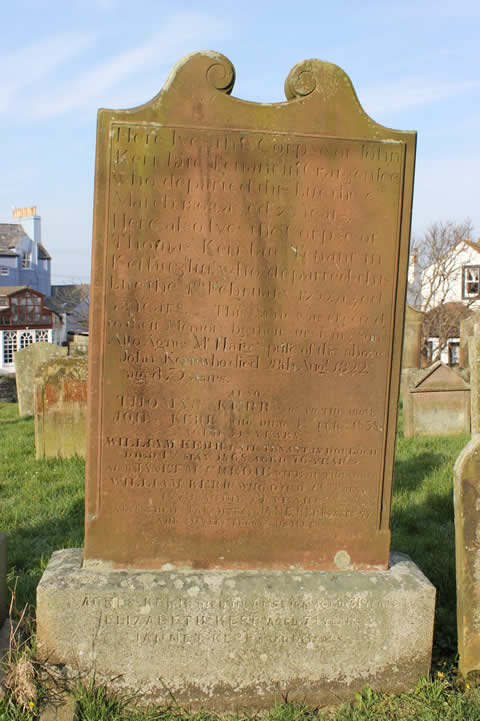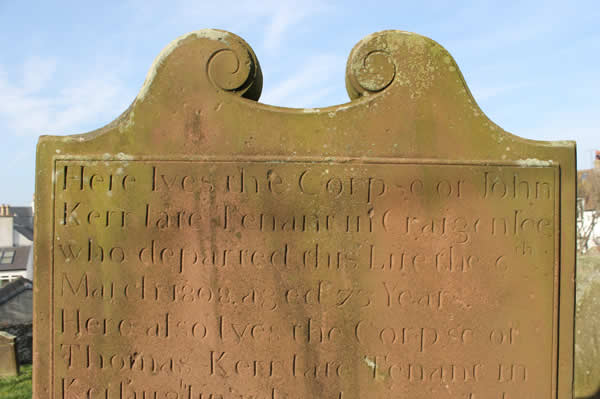 Click thumbnails to enlarge.
Inscription
---
Here Lyes the Corpse of John KERR late Tenant in Craigenlee who departed this life the 6th March 1808 aged 73 years Here also lyes the Corpse of Thomas KERR late Tenant in Kerlaughlin who departed this Life the 1st February 1799 aged 58 years This stone was erected to their Memory by their surviving sons. Also agnes McHAIG Spufe [sic] of the above John KERR who died 28th Aug 1822 aged 75 years Also Thomas KERR son to the above John KERR who died lst Feby 1858 aged 51 years. William KERR late tenant in Douloch died 1st May 1868 aged 76 years Also Janet McCREDIE wife of the above William KERR who died 28th May 1873 aged 73 years Also their daughter Jane KERR aged 77 and sisters below named Agnes KERR died in America aged 31 years Elizabeth KERR aged 74 years Jannet KERR aged 14 years [reverse] This Burying Ground contains [2] Graves in length and 3 in Breadth In Remembrance of John KERR son of Thomas KERR farmer in Craigenlee who died 24th July 1845 aged 34 years Also William KERR, joiner, son of John KERR Colfin who died 3rd June 1844 aged 28 years Also Jane GIBB wife of the above Thomas KERR who died 4th August 1844 in the 64th year of her age. Also Thomas KERR, son of Robert KERR, Pinminnoch who died 4th December 1859 aged 2 years Margaret McCRACKEN died 6th February 1854 aged 27 years and William KERR her son aged 6 years
Headstone
---
Type:

Red sandstone.

Dimensions:

148 x 90 x 10

Condition:

Good. Both faces stable. Some pitting on west face.

Description:

Free standing with double scrolled top set on grey sandstone plinth. Main inscription on east face within raised panel.