Map Reference: 57 View Map
Dumfries & Galloway Family History Society Survey Reference: 46
---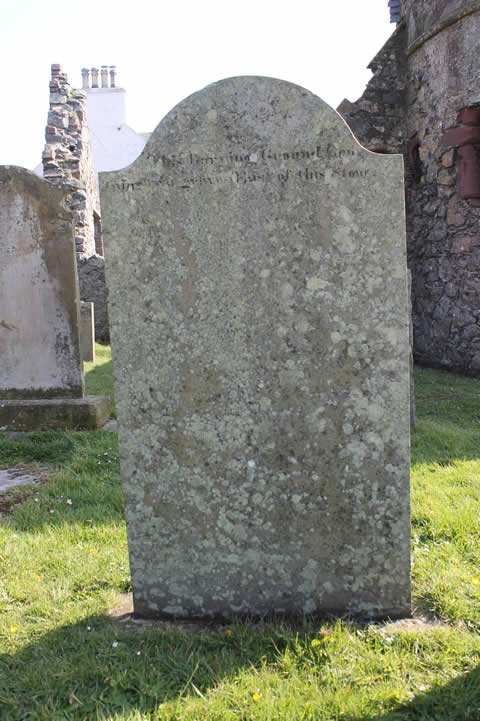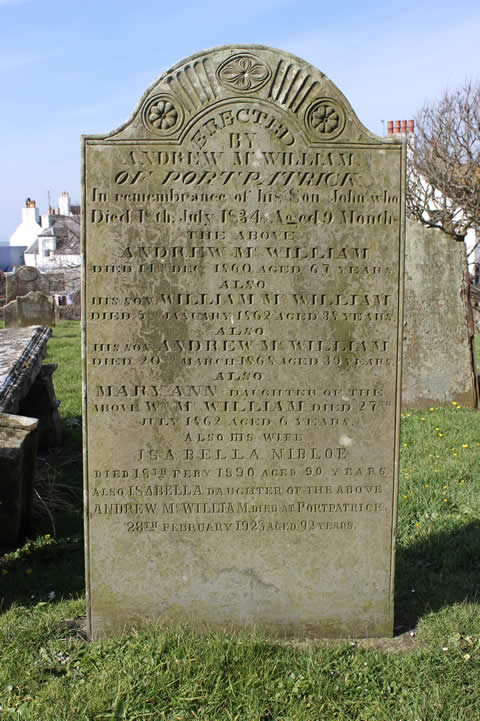 Click thumbnails to enlarge.
Inscription
---
[curved top with floral motifs] Erected by Andrew McWILLIAM of Portpatrick in remembrance of his son John who Died 18th July 1834 Aged 9 months. The above Andrew McWILLIAM Died 14th Decr. 1860 aged 67 years. Also his son William McWILLIAM died 5th January 1862 aged 38 years. Also his son Andrew McWILLIAM died 20th March 1868 aged 39 years. Also Mary Ann daughter of the above William McWILLIAM died 27th July 1862 aged 6 years. Also his wife Isabella NIBLOE died 18th Feby. 1890 aged 90 years. Also Isabella daughter of the above Andrew McWILLIAM died at Portpatrick 28th February 1923 aged 92 years. [reverse side] This Burying Ground contains two graves east of this Stone.
Headstone
---
Type:

Slate (Welsh?).

Dimensions:

148 x 79 x 06

Condition:

Good.

Description:

Free standing, round top and shoulders decorative arcade of rosettes below. Inscription on east face. Set in cement.