Map Reference: 32 View Map
Dumfries & Galloway Family History Society Survey Reference: 28
---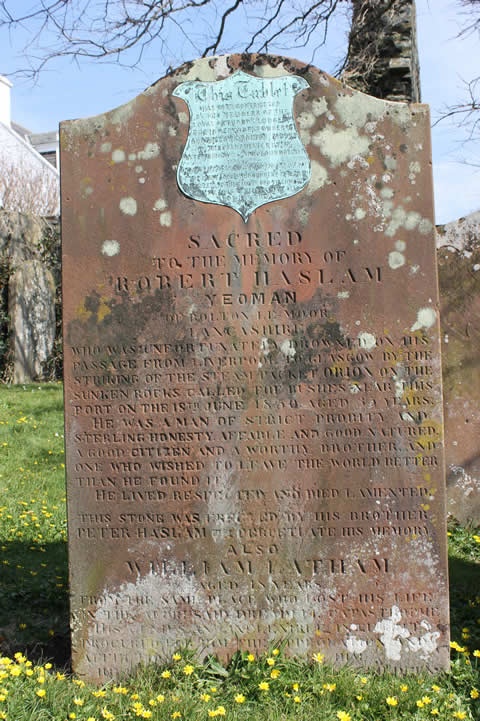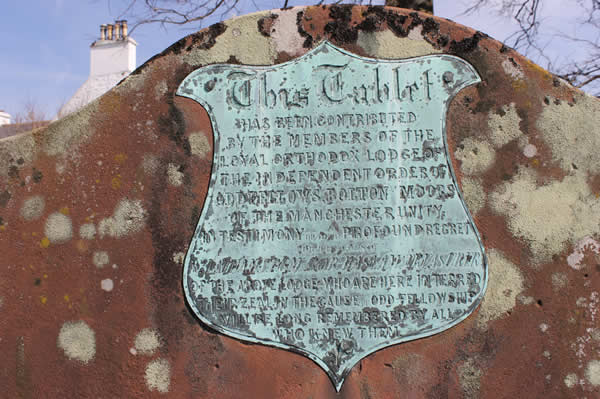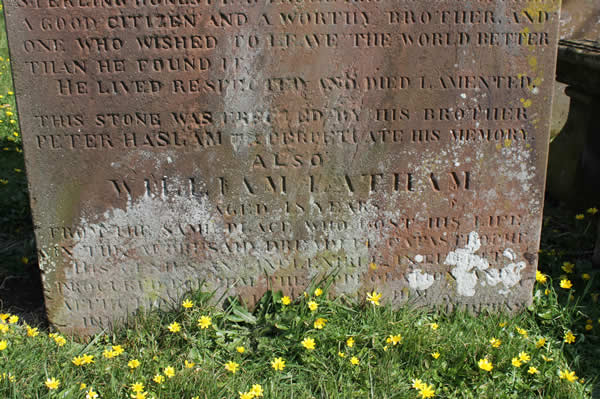 Click thumbnails to enlarge.
Inscription
---
[Lead shield at top of stone reads:] This tablet has been contributed by the members of the Loyal Orthodox Lodge of the Independent Order of Oddfellows, Bolton le Moors of the Manchester Unity in testimony of their profound regret for the loss of Wm LATHAM P.P.G.M. & Robt HASLAM, Treasurer of the above Lodge, who are interred here. Their zeal in the cause of Odd-fellowship will be long remembered by all who knew them. Sacred to the memory of Robert HASLAM, yeoman of Bolton-le-Moor, Lancashire who was unfortunately drowned on his passage from Liverpool to Glasgow by the striking of the Steam Packet Orion on the sunken rocks called The Bushes near this port on the 18th June 1850 aged 35 years. He was a man of strict probity and sterling honesty, affable and good-natured, a good citizen and a worthy brother, and one who wished to leave the world a better place than he found it. He lived respected and died lamented. This stone is erected by his brother Peter HASLAM to perpetuate his memory. Also William LATHAM aged [4]8 years from the same place who lost his life in the aforesaid dreadful catastrophe. His genius and inflexible integrity procured for him the approbation and affection of all who knew him. He has left a wife and four children to deplore his unhappy fate.
Headstone
---
Type:

Red sandstone.

Dimensions:

169 x 102 x 15

Condition:

Good. Some weathering to centre of west face but inscription remains legible.

Description:

Free standing with round top and shoulders. Inscription on the west face includes a copper alloy shield-shaped engraved plaque attached to the stone with three lead plugs.