Map Reference: 204 View Map
Dumfries & Galloway Family History Society Survey Reference: 208
---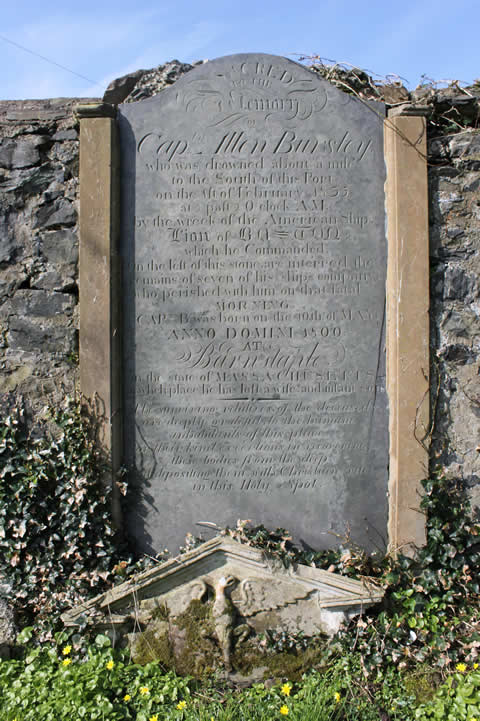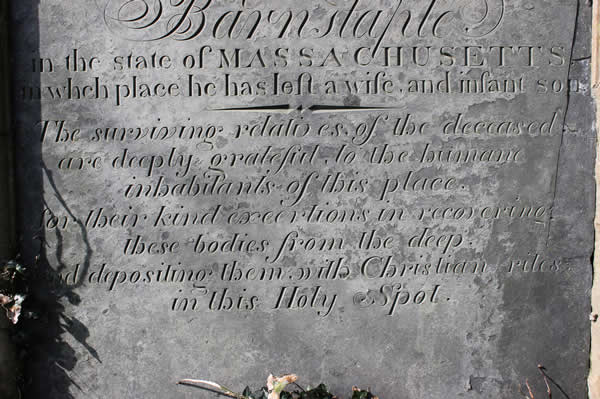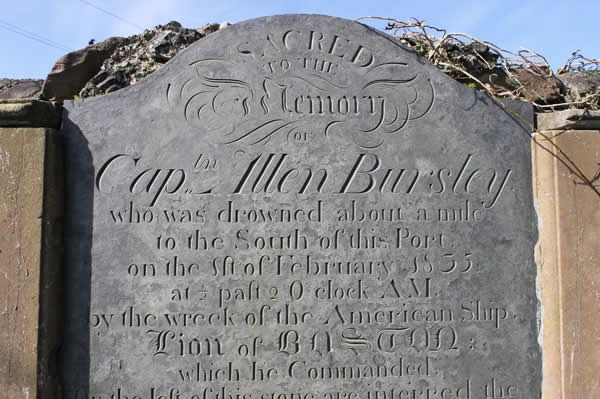 Click thumbnails to enlarge.
Inscription
---
[on wall] Sacred to the memory of Captn. Allen BURSLEY who was drowned about a mile to the South of this Port on the 1st of February 1835 at ½ past 2 o'clock AM by the wreck of the American Ship Lion of Boston which he commanded. On the left of this stone are interred the remains of seven of his ship's company who perished with him on that fatal morning. Captn. BURSLEY was born on the 10th of May Anno Domini 1800 at Barnstaple in the State of Massachusetts in which place he has left a wife and infant son. The surviving relatives of the deceased are deeply grateful to the humane inhabitants of this place for their kind exertions in recovering these bodies from the deep and depositing them with Christian rites in this Holy Spot.
Headstone
---
Type:

Slate (Welsh).

Dimensions:

177 x 89 (main panel)

Condition:

Poor. Monument incomplete and fracture in right section of main panel.

Description:

Pedestal tomb set against boundary wall. Rectangular slate panel with curved and shouldered top and chamfered sandstone pilasters. Facing east. Top section of monument missing (but see memorial 209).