Map Reference: 187 View Map
Dumfries & Galloway Family History Society Survey Reference: 191
---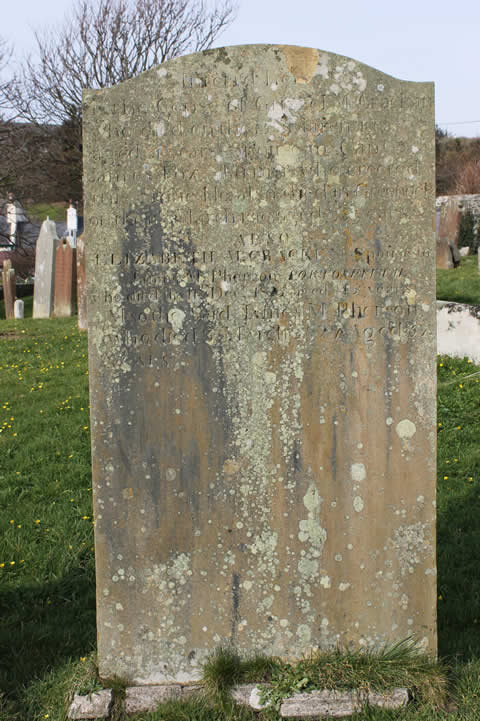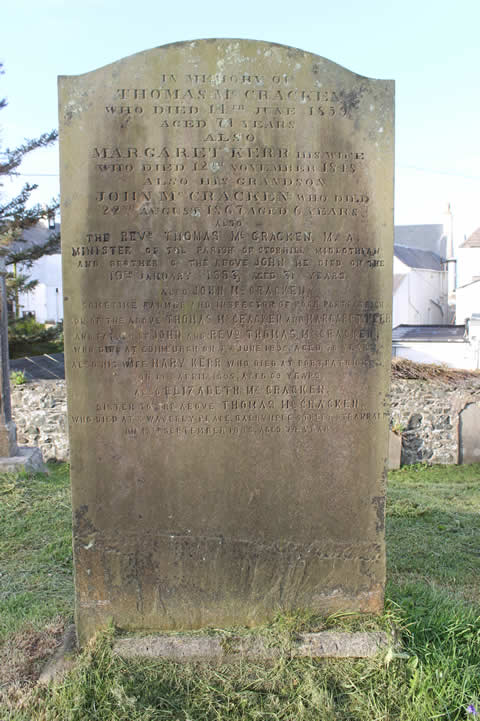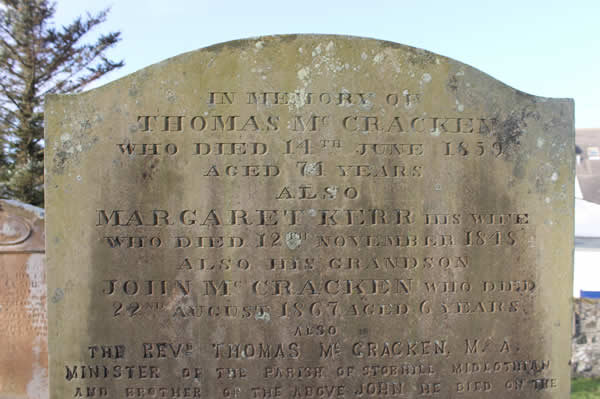 Click thumbnails to enlarge.
Inscription
---
In memory of Thomas McCRACKEN who died 14th June 1859 aged 74 years Also Margaret KERR his wife who died 12th November 1848 Also his grandson John McCRACKEN who died 22nd August 1867 aged 6 years Also the Revd. Thomas McCRACKEN, M.A., Minister of the Parish of Stobhill, Midlothian and brother of the above John. He died on the 19th January 1883 aged 31 years. Also John McCRACKEN, sometime farmer and Inspector of Poor, Portpatrick, son of the above Thomas McCRACKEN and Margaret KERR and father of John and Revd. Thomas McCRACKEN, who died at Edinburgh on 7th June 1895 aged 76 years Also his wife Mary KERR who died at Portpatrick on 14th April 1895 aged 69 years Also Elizabeth McCRACKEN, sister to the above Thomas McCRACKEN who died at 3 Waverly Place, Dalrymple Street, Stranraer on 13th September 1886 aged 74 years [reverse side] Interred here the Corpse of Grizzel McCRACKAN who died on the 15th of March 1808 aged 31 years Spouse to Capt. James FOX Mariner who erected this stone. He also died in Greenock on the 11th March 1810 aged 33 years Also Elizabeth McCracken Spouse to James McPHERSON Portospittal who died the 11th Decr 1825 aged 45 years Also the said James McPHERSON who died 3d March 1827 aged 37 years
Headstone
---
Type:

Yellow sandstone.

Dimensions:

171 x 92 x 08

Condition:

Fair. Worn, some erosion along bedding plane joints and cement band cracked in places.

Description:

Free standing headstone with round top and shoulders. Main inscription on east face. On sandstone base with cement band.