Map Reference: 18 View Map
Dumfries & Galloway Family History Society Survey Reference: 11
---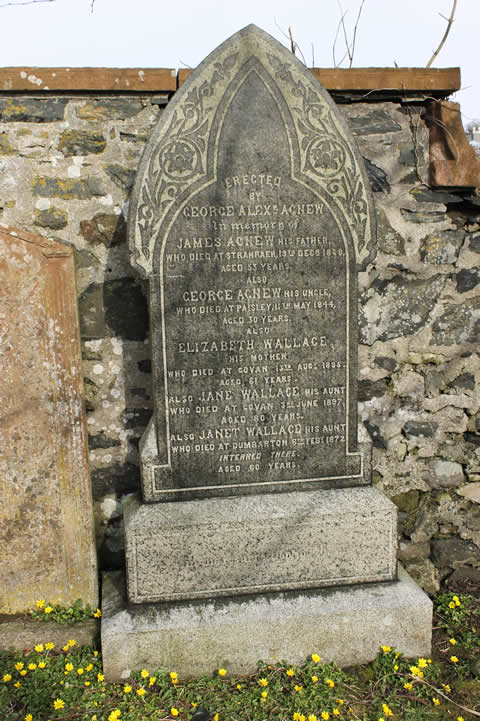 Click thumbnail to enlarge.
Inscription
---
Erected by George Alexr AGNEW in memory of James AGNEW his father, who died at Stranraer, 19th Decr 1868 aged 53 years, also George AGNEW, his uncle, who died at Paisley, 11th May 1844, aged 30 years. Also Elizabeth WALLACE, his mother who died at Govan 13th Augt 1895 aged 81 years. Also Jane WALLACE, his aunt, who died at Dumbarton 8th Feby 1872. Interred there aged 60 years. I am the Resurrection and the Life.
Headstone
---
Type:

Polished grey granite.

Dimensions:

203 x 66 x 17

Condition:

Good.

Description:

Free standing headstone with lancet-shaped top with granite plinth on marble (?) foundation stone. In front of boundary wall and facing west. Decorative floral panel at top of face. Surface polished but decoration and inscription unpolished. Facing west.