Map Reference: 178 View Map
Dumfries & Galloway Family History Society Survey Reference: 180
---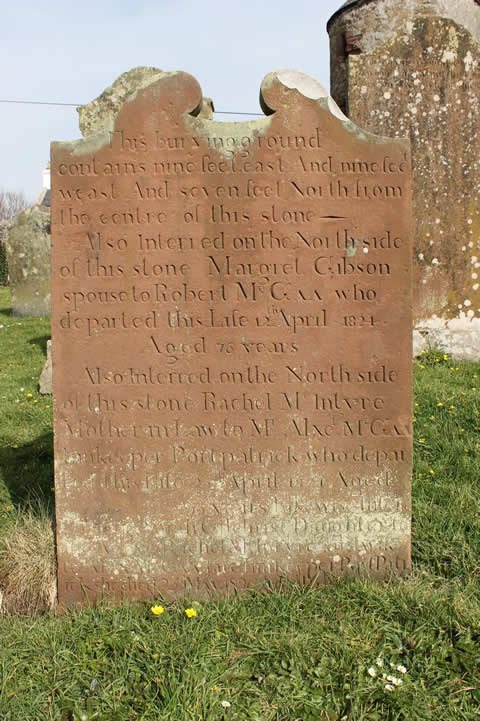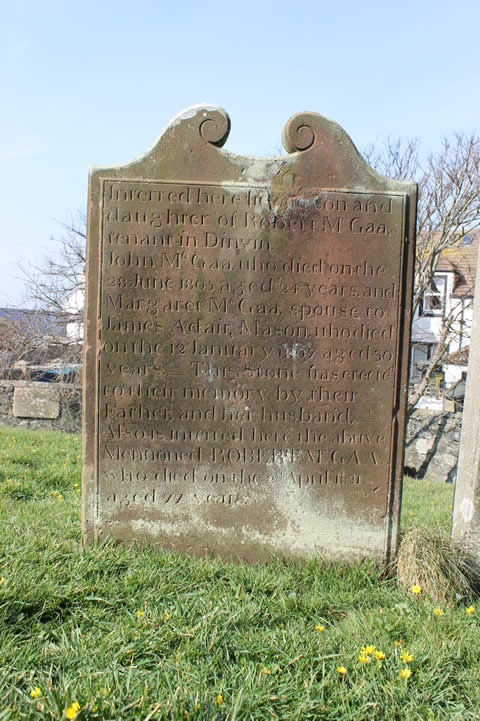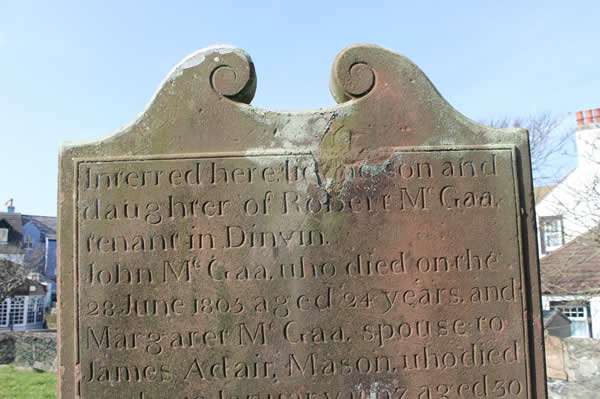 Click thumbnails to enlarge.
Inscription
---
Interred here lie the son and daughter of Robert McGAA tenant in Dinvin John McGAA who died on the 28th June 1805 aged 24 years and Margaret McGAA spouse to James ADAIR Mason who died on the 12 January 1807 aged 30 years. This stone was erected to their memory by their Father and her husband. Also is interred here the abuve [sic] Mentioned Robert McGAA who died on the 2nd April 1821 aged 77 years.

[reverse side] This burying ground contains nine feet east And nine feet weast [sic] And seven feet North from the centre of this stone. Also interred on the North side of this stone Margret GIBSON spouse to Robert McGAA who departed this Life 12th April 1824 aged 76 years Also interred on the North side of this stone Rachel McINTYRE Mother in Law to Mr. Alxer McGAA Innkeeper Portpatrick who departed this life 26th April 1824 Aged 66 years Likewise interred here Sarah GILCHRIST daughter to the above Rachel McINTYRE and wife to Alex. McGAA Innkeeper Portpatrick She died 23rd May 1826 Aged 35 years
Headstone
---
Type:

Red sandstone.

Dimensions:

128 x 90 x 09

Condition:

Fair. East face worn with flaking to right top and fractures on sides.

Description:

Free standing headstone with double scrolled top. Main inscription on raised panel on east face.