Map Reference: 17 View Map
Dumfries & Galloway Family History Society Survey Reference: 10
---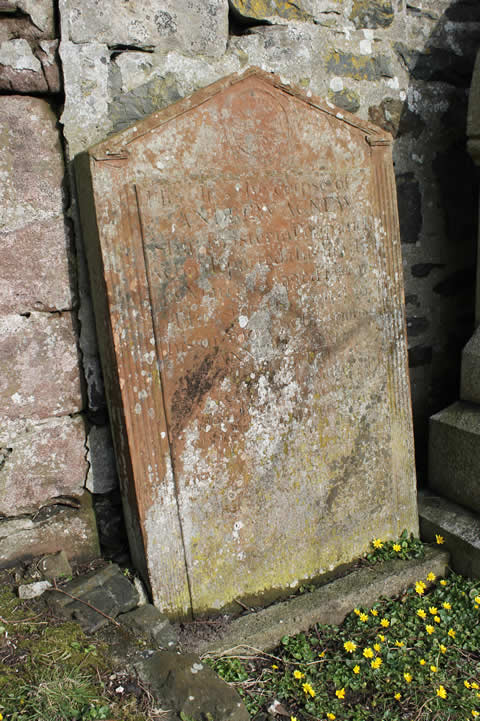 Click thumbnail to enlarge.
Inscription
---
Here lies the corpse of Andrew AGNEW ship master in Portpatrick who departed this life the 4th March 1819 aged 48 years. This stone is erected to his memory by his spouse Jannet LENNOX The storm that blows to happy lands has borne me far away To brighter suns, to fairer fields, to God's eternal day. Also Alexander HOGG her husband who died 17th May 1824 aged 36 yrs, their infant son Alexander, also the above Janet LENNOX died the 10th June 1841 aged 39 years, mother of James and George AGNEW and daughter of James LENNOX and Janet SHANNON who are interred here.
Headstone
---
Type:

Red sandstone.

Dimensions:

144 x 91

Condition:

Fair. Surface and inscription worn and some localised flaking.

Description:

Headstone in concrete foundation, facing west and resting against boundary wall. Open pediment top with central rosette and fluted pilasters.