Map Reference: 16 View Map
Dumfries & Galloway Family History Society Survey Reference: 9
---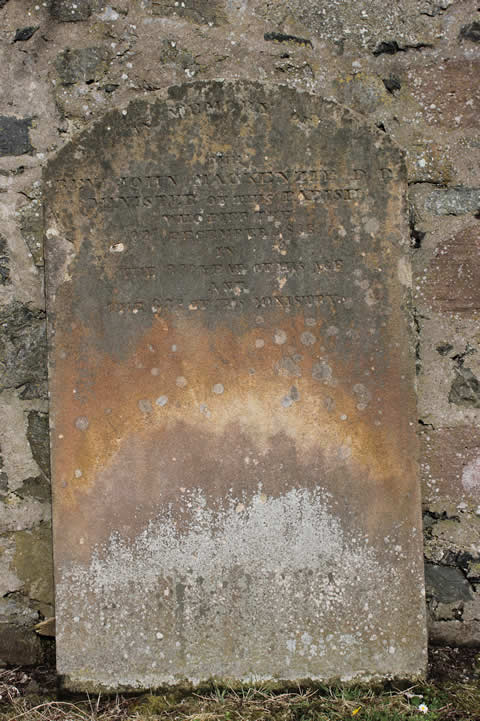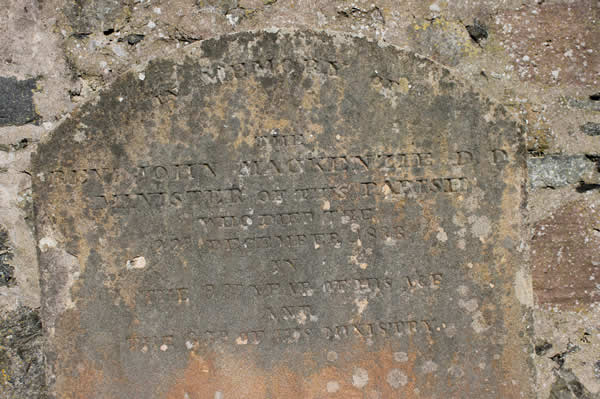 Click thumbnails to enlarge.
Inscription
---
In memory of the Rev. John MACKENZIE D.D. Minister of this Parish who died the 22d December 1836 in the 93d year of his age and the 63d of his ministry. [Ed: Fasti Ecc. Sc. states that Rev. John Mackenzie, son of Ninian Mackenzie, Clayholes, Stranraer, was ordained and inducted to Portpatrick 1773. He m. 1st Nov. 1799 Agnes, dau. of Thomas Naismith, writer, Stranraer and had 6 dau. and 3 sons. He was a Chaplain in Ordinary to both George III and William IV. Publications, etc.]
Headstone
---
Type:

Red sandstone.

Dimensions:

150 x 19 x 17

Condition:

Fair. Surface and inscription worn and some flaking along top.

Description:

Free standing headstone with round top set in front of church wall. Facing west.