Map Reference: 15 View Map
Dumfries & Galloway Family History Society Survey Reference: 8
---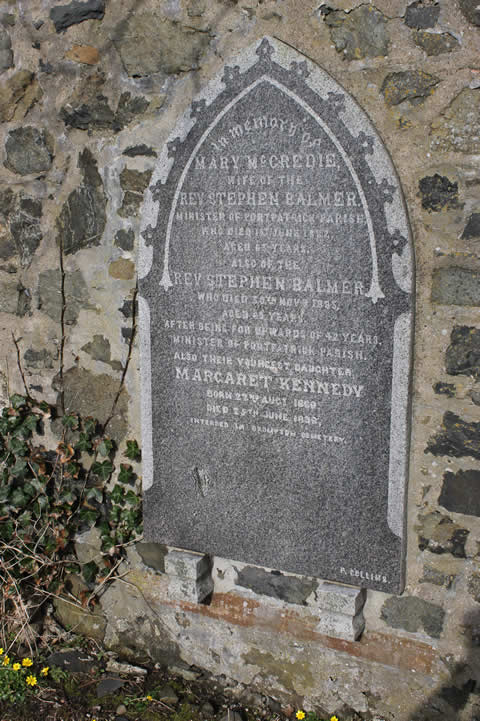 Click thumbnail to enlarge.
Inscription
---
[on wall] In memory of Mary McCREDIE wife of the Rev Stephen BALMER, Minister of Portpatrick Parish, who died 1st June 1882 aged 63 years. Also the Rev. Stephen BALMER who died 30th November 1885 aged 69 years after being upwards of 42 years Minister of Portpatrick Parish. Also their youngest daughter Margaret KENNEDY Born 22 Augt 1860, died 25th June 1890 interred in Brompton Cemetery [Ed: Fasti Ecc. Sc. II - Rev. Stephen Balmer b. Eckford, Roxburghshire 1817, was ord. and inducted to Portpatrick 1843. He m. 12 March 1844 Mary, dau. of Wm. McCredie, farmer, Laigh Ersock, Whithorn. Of their dau., Jessie m. James Adair McConnochie, M.I.C.E., Matilda m. Michael MacMillan, principal of Elphinstone College, Bombay, and Stephanna Mary m. Alexander McCaig Wither, banker, Ashbourne.]
Headstone
---
Type:

Polished grey granite.

Dimensions:

138 x 77

Condition:

Good.

Description:

Memorial with lancet-shaped top set into church wall and resting on two granite base supports. Freize of crowns or coronets at top. Surface polished but decoration and inscription unpolished. Facing west. Mason's name 'P Collins' bottom right.